SPINLevel Replaces Traditional Tank Level Meters And Adds Easy Remote Monitoring Of All Key Tank Parameters. LPG Level, Filling Valve Status, Ambient Temperature And Instrumentation Pit Flooding, Always Under Your Control.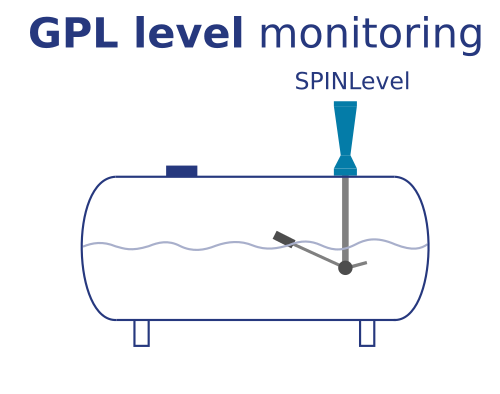 SPINLevel constantly monitors the tank parameters and trasmit the collected data to the server through GSM network.
Easy to install without any external connection, completely self-powered with more the 5 YEARS of expected lifespan, includes repleceable batteries to extend the operating life time.
End-users can monitor thir LPG level in real-time through the mobile APP , that can also notify them about marketing opportunites (special discounts, customized promotions, etc).
The SPINLevel system is designed and full complaint with the most recent European Directives like ATEX(2014/34/EU), RED(2014/53/EU) and EMC(2014/30/EU).
Functional Characteristics
SPINLevel is a unique device that is easily installed on any float gauge in place of a traditional tank level dial gauge, but it does much more!
It includes a smart system to remotley monitor all critical parameters of a LPG tanks, so each installed tank is finally under your complete control.
The collected data are trasmitted to the server with GSM/NB-IoT connection (2G & Narrow Band IoT), and can be processed and analyzed though the web server interface.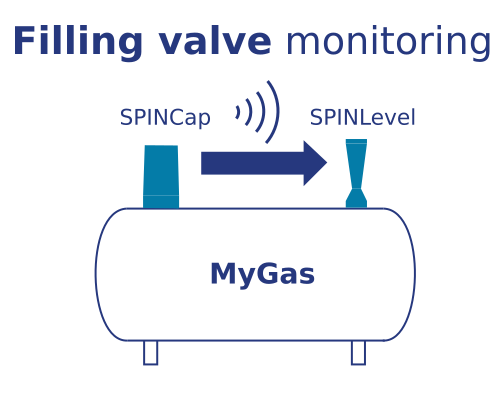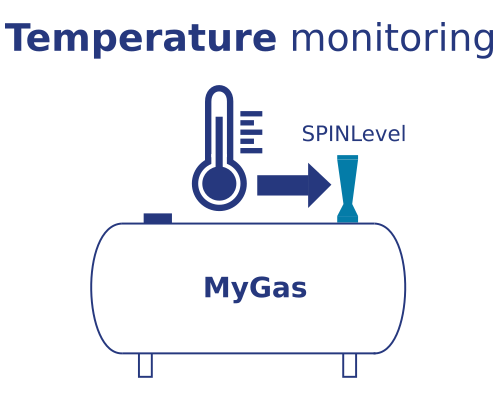 The system is battery powered, so it doesn't require any cable connection. It records the measured data into its internal memory and periodically transmit  to the server. In case some alarm condition is detected(i.e unauthorized filling, spill event, etc) the system, transmit   the data immediately.
SPINLevel can be paired with SPINCap to have total control of the tank. Through the BLE communication the filling valve status is now continuosly monitored.
SPINLevel features
MCU ARM Cortex M4 with integrated Crypto Engine

BLE 4.1 with OTA functionality for remote updates

Flash memory for local storage of events

Real Time Clock with a maximun error of less than 5 minutes/year

Autonomy > 5 years(depends on use and environmental conditions)

Completely self-powered (repleceable batteries)

Database for tank monitoring, events storage, system control
Mobile APP (Android 6.0 or higher) for end users

Remote telemetry through GSM connection (2G/NB-IoT)

Encrypted data trasmission

BLE communication with SPINCap filling valve

Other features

ATEX Mark:  Ⅱ 1 G Ex ia IIA T4 Ga (up to Zone 0)

Degree of protection: IP65/IP68

Operating temperature: -20°C +60°C

Dimension: 50(d) x 130(h) mm
SPINLevel is also equipped with an application dedicated to LPG end users with the following highlights:
SPINLevel APP let consumer to monitor his tank's level in realt-time.
It shows last registered levels and a chart for levels history over than LPG consumption.
It is possible to monitor more SPINLevel in the same APP.
LPG Company can send promotional messages directly to the end customer.